I have tried and posted many dessert recipes using Dulce De Leche and if you happen to be a regular reader, by now, you must have come to know of my love for Dulce deLeche desserts
:)
. Since it is the romantic month of February and Valentine's Day is around the corner, I thought I will post a dessert recipe that is really easy to make for Valentine's day or for any other function. I have used store-bought Dulce de Leche, but you can easily prepare it at home by boiling a can of sweetened condensed milk. I have already posted the detailed recipe of how to prepare DDL at home here. Do try this recipe and present this Panna Cotta in individual serving glasses for stunning visual appeal!
Dulce de Leche Panna Cotta
(Recipe Adapted from here)
Ingredients:
1 cup (240 ml) -Whole milk
2 tsp - Unflavoured powdered gelatin
3 cups (720 ml) - Whipping cream
1/3 cup - Sugar (can substitute with honey)
Method:
Pour the milk into a bowl or pot and sprinkle gelatin evenly and thinly over the milk.

Let stand for 5 minutes to soften the gelatin.

Pour the milk into the saucepan and place over medium heat on the stove. Heat this mixture until it is hot, but not boiling, about five minutes, stirring in between.

Next, add the cream, sugar (honey), and pinch of salt.

Making sure the mixture doesn't boil, continue to heat and stir occasionally until the sugar have dissolved, 5-7 minutes.

Take out 2 1/2 cups of the liquid and place in a medium bowl. Stir the vanilla essence into this mixture and set aside.

Add dulce de leche to the remaining liquid and heat over low heat, stirring constantly until combined.

Remove from heat, allow it to cool to lukewarm.

To assemble the Panna Cotta in a slanting effect, place the glasses in a slanting position with the help of an egg carton / ice tray / dessert bowls/ cake dish; then pour the dulce de Leche mix into glasses until half full. Allow to chill in slanting position until set. Then pour the vanilla mix and chill again.

Refrigerate at least 4-6 hours before serving.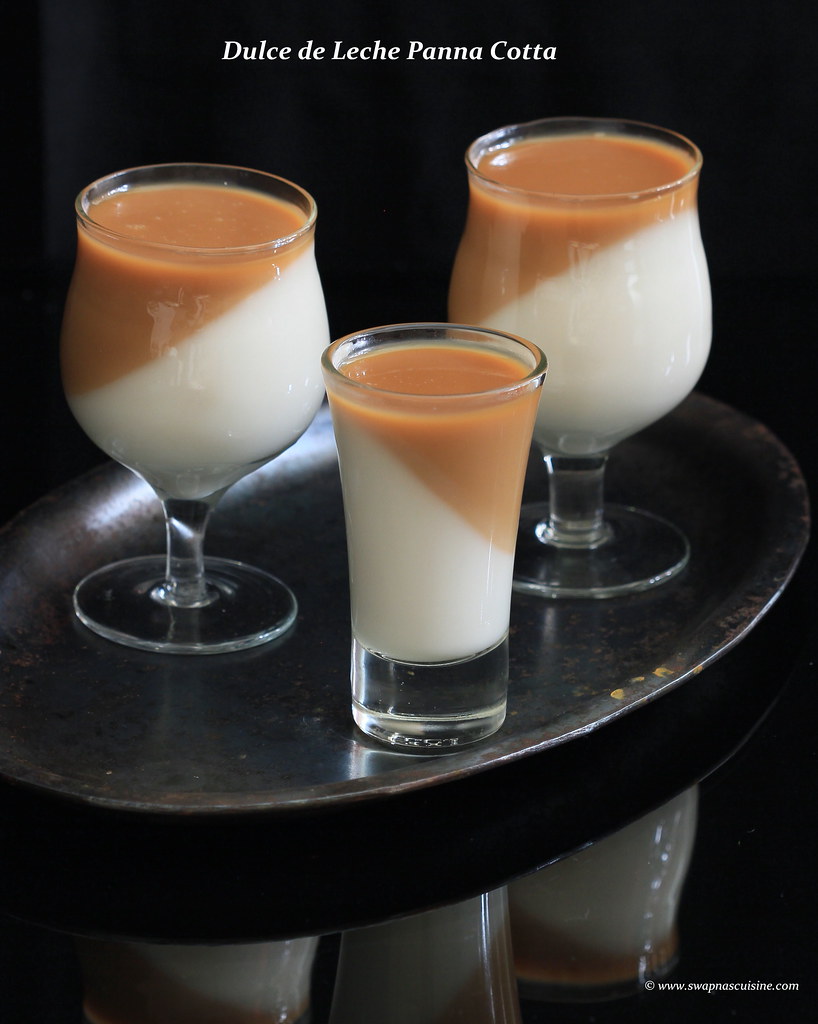 Did You Enjoy this Recipe?
Enter your email ID below to get
more such recipes in your inbox